LORELAI & THE GILMORE GIRLS KNIT ALONG!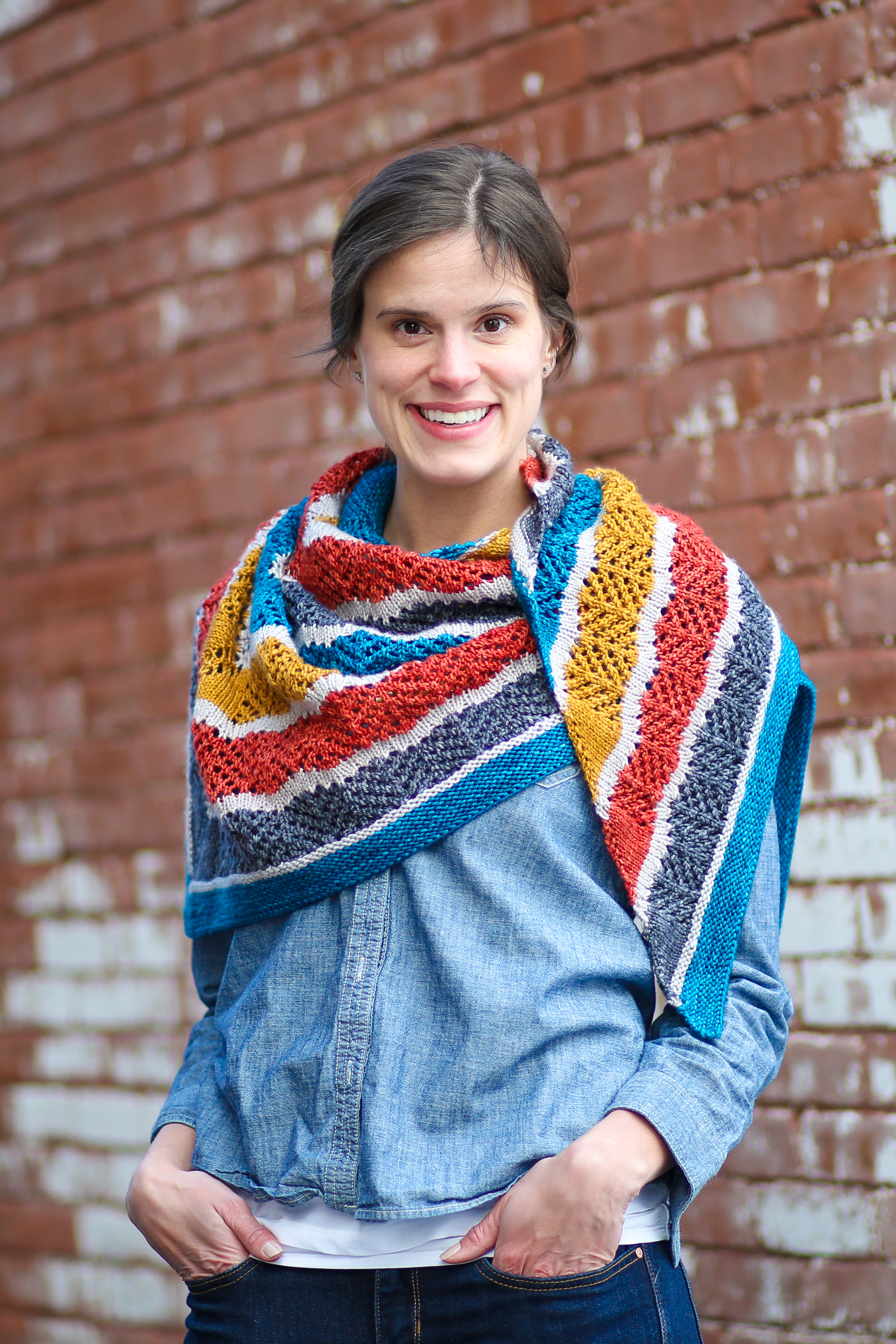 THERE'S A NEW TWIST!
For this knit along we're featuring our brand new pattern LORELAI + gorgeous yarn kits from Nice & Knit!
Our newest pattern, LORELAI, was inspired by one of the lead characters of Gilmore Girls - Lorelai Gilmore.
Full of personality, color and character - Lorelai embodies fun! I can just imagine her in her fave boots, jeans & rock n'roll t-shirt, strolling past Luke's with a warm cup of coffee wearing this shawl.
So grab 5 skeins of color that best represent your personality and join in on our Gilmore Girls Knit Along! The Lorelai shawl looks just as great in pastels as she does in vintage brights!
And don't worry if Lorelai is not your cup of tea, feel free to knit along with any project that you feel fits in with the Gilmore Girls aesthetic!
Most of all have fun!
// START DATE
The KAL will start on March 10th, 2015. You can sign up and join in at any time throughout the KAL.
// END DATE
The KAL will end on April 7th, 2015, with a fun giveaway!
// RULES OF THE KAL
- Have fun! For reals! That's a rule..lol! You must have fun!
- You can join the KAL with a project already started. We encourage people to finish up those WIP's. If you are half way though you might want to wait a week or two before joining in to make it fair :)
- You don't have to finish your project by the end of the KAL (though we encourage that) to be eligible for the prize. We just want ya to join in :)
- You don't have to have watched Gilmore Girls to take part. You can start watching now or just join in the fun to make Lorelai!
- You don't have to make Lorelai to join in. You can make any project that fits in with the Gilmore Girls "aesthetic".
// HOW TO SIGN UP
Enter your info into the FORM BELOW to be eligible for the prizes for the giveaway! You must have a project in progress during the KAL to be eligible.
// WHERE CAN YOU FIND US TO JOIN IN?
1. RAVELRY. Find the KAL running in the Very Shannon Ravelry Group. The thread to chat in will be up today sometime so you can all pop in and share which projects you will be making, swatches, yarn choices etc. This is the part I find the most fun! I love all the chatting, friendships, laughs and support. If you haven't joined in over there before for our KAL's you should give it a try.

2. BLOGS. Each week throughout the KAL, I will be posting along with some special guests. You will be able to read each of my posts hopefully every Wed throughout the duration of the knit along.

3. SOCIAL MEDIA. You can follow along with pics and more with the hashtag #GGKAL15. You can find me on facebook, twitter, instagram and google+.
GET INSPIRED!
Please link up your projects during the KAL in our ravelry group or by leaving your blog post links in our blog comments so I can pin and share your projects as well! We love to see your wip's and fo's!
// OUR FEATURED PATTERN - LORELAI
Color changes and pretty lace stitches paired with Stockinette stitch create an eyecatching triangular shawl. Inspired by Lorelai from the tv show Gilmore Girls - this shawl is filled with personality! So have fun & pick a color palette that shows off your personality!
LORELAI features & uses the following:
both written & charted instructions
5 skeins of Nice & Knit DK yarn
4mm/US6 long circular needle
16sts x 28rows = 4" St st
10 stitch markers + yarn needle
full color pictures & professionally drafted diagrams/schematics
Wingspan is 75.5in/192cm from tip to tip and 37in/97cm deep.
You can purchase LORELAI now in our shop HERE, on Ravelry HERE, on Etsy HERE and on Kollabora (coming soon).
Use coupon code "lorelai" in our Ravelry Shop to save $2 OFF Lorelai through till Sunday!
Thank you for all of your support! We hope you enjoy knitting LORELAI as much as we did!
Happy knitting!
// FEATURED YARN + KITS FROM NICE & KNIT
"We lovingly hand-dye every beautiful skein with you in mind. We hope that our yarn brings you as much joy in your crafting experience as it does for us in making them".
Nice & Knit DK yarn is:
100% Superwash merino wool

features 230 yards/211 meters per skein

approximately 6 stitches per inch when knit on a size 6 needle.

and it's super squishy and soft to the touch.
Make choosing colors easy for LORELAI and spoil yourself with a gorgeous kit from Nice & Knit!
Each kit contains 5 lovely color coordinated skeins of Nice & Knit DK for $120, as well as a FREE Nice & Knitter Tote with each purchase!!!!
Nice & Knit has curated 7 lovely kits in the following color palettes shown below:
Original Lorelai :: Blues :: Pinks :: Reds :: Greens :: Teals :: Purples
// TIPS & TECHNIQUES
New knitter? Looking to learn a new technique? Check out our Tips & Techniques section for helpful posts, videos, tutorials and more!
// KNIT ALONG DIRECTORY
Interested in our other Knit Alongs? Click here to find our full Knit Along Directory