I've had a yearning for a new hat & fingerless mitts this season and I knew as soon as Brooklyn Tweed released their gorgeous new bulky yarn - Quarry that it was time to get knitting! The LANDSLIDE HAT & MITTS SET is filled with yummy texture, is super cozy, and they are oh so fun to knit & wear! They make great quick gift knitting but are also perfect for treating yourself with!
Fun twisted stitches create a textured mock cable that ups the squish factor for these fingerless mitts & hat. Paired with raised slipped stitches LANDSLIDE makes for a stylish set you'll want to wear all season long!
SPECIAL SAVINGS! LANDSLIDE IS A SET! YOU GET BOTH THE HAT & MITTS WHEN YOU BUY! USE CODE "BLACKFRIDAY25" TO SAVE 25% OFF UNTIL 12/03!
LANDSLIDE IS ALL ABOUT THE SQUISH FACTOR!
When I was designing LANDSLIDE I knew I wanted a hat and fingerless mitts that were seriously filled with squish and texture! I wanted them to be fun, relaxing and a super quick knit! Both the hat and mitts feature raised slipped stitches and an addictive mock cable that I just adore! I dare you to make just one ;) I'm on my 3rd hat and mitts!
LANDSLIDE IS AN ADDICTING & QUICK KNIT!
The hat is available in one size and the fingerless mitts come in 3 sizes - S, M & L. The mitts also feature 2 length options - high forearm (as shown on model) and just past cuff length (not shown) and has a thumb gusset.
Both patterns are considered Intermediate but an advanced beginner could pull them off. If you know how to do increases/decreases, knit/purl, slip stitches, knit in the round and read written instructions you can make Landslide. The patterns are easy to memorize and both feature charts. In fact the hat is available fully charted and fully written!
HAVE FUN & ADD YOUR PERSONALITY!
LANDSLIDE looks great with a leather tag, fun pompom and more! Go with a bright, bold color or keep it neutral with a soothing tone. Whichever way you prefer they are both fun accessories for your wardrobe!
GET INSPIRED + JOIN THE FUN! TAG YOUR PROJECTS WITH HASHTAG #LANDSLIDEKNITS ON SOCIAL MEDIA!
THE INSPIRATION BEHIND LANDSLIDE
You guys all know the majority of my designs are inspired by the music I love and this set is no different. The song that inspired Landslide is in fact also called Landslide. It's by the awesome band Oh Wonder. I adore the whole album but was particularly smitten with the lyrics in this song. You can hear the song HERE.
It's all about being there for someone through good times and bad. The raised slipped stitches flanking the mock cable represent the easy times and the mock cable duo is symbolic for the ups and downs and curveballs life throws at you. How no matter what happens or where you go that special person stays with you. I'm a big softie....I know...lol. There is more to the backstory but it's personal and I think I'll just keep that in my heart (and not on here) so y'all don't think I'm a complete creative wackadoodle...lol.
WHERE TO BUY THE LANDSLIDE HAT & MITTS PATTERNS?
You can purchase a copy of the LANDSLIDE HAT & MITTS on Ravelry, in our shop & on Etsy. The patterns are downloadable PDF's that are fully written and include charts and pattern stitch counts. They have also been professionally tech edited and also tested.
LOOKING FOR A PRINTED BOOKLET?
You will be able to find lovely printed booklets of the LANDSLIDE set soon at The Beehive Wool Shop, Churchmouse Yarn & Teas, Tolt Yarn & Wool Shop & more soon!!! The printed set includes your pdf copies as well!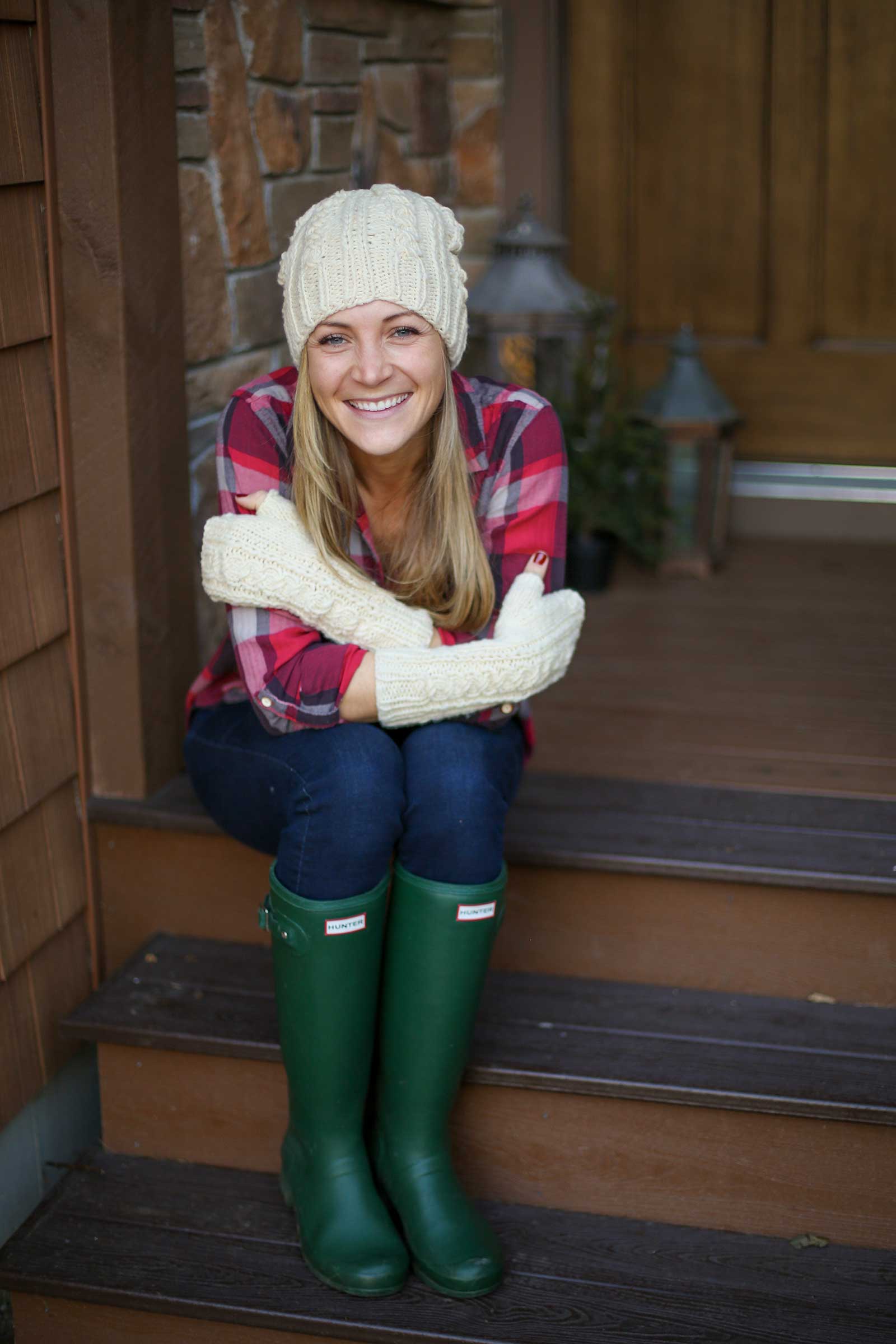 YARN FOR THE LANDSLIDE SET
THE PHOTOSHOOT
The talented Betsy (of Betsy Jo Photography) shot Landslide for me! She also photographed both Bradway and Lorelai for me and I just adore working with her. I love the pics she got and wish I could go hang out in that scene! So warm and cozy! Thanks again for being a superstar Betsy! I adore you! You always do such a great job bringing my vision to life!
You ready to up the cozy in your winter wardrobe? Let's get knitting! Cast on your new fave hat & mitts and let's brave the cold in style!
I hope you love LANDSLIDE as much as I do! I so appreciate all of your support and encouragement! A HUGE thank you to my invaluable testers & tech editor for helping out!
What color would you make LANDSLIDE in? Have you knit with Quarry yet?