I love to knit & wear my handknits in the summer. So when the warm weather rolls around I'm all about still wearing my pretty shawls. Our newest pattern - BRADWAY, is all about summer. It's inspired by jean cut-offs, summer night strolls, camping, and lakeside relaxation with loved ones - BRADWAY is that warm, lazy feeling summer brings.
Textured twisted ribs & knit purl combos make for a modern rustic triangular shawl that's a fun & relaxing knit. BRADWAY will be your shawl of choice for cool evenings around the campfire & lazy summer night strolls.
Use coupon code "BRADWAY" to SAVE 15% OFF through till 07/03! Don't forget to join in our BRADWAY Mini Knit Along HERE as well!
THE INSPIRATION BEHIND BRADWAY
If any of you heard me on the Woolful Podcast a few weeks ago you'd have heard me chat about how inspired I am by music and the notes in songs.
A lot of my patterns come from melodies and sometimes they come from the lyrics themselves. I've always been obsessed with music so it seems natural that it would inspire my designs.
What song inspired BRADWAY?
BRADWAY was inspired by the song Looking at Stars (click HERE to listen) by newcomer Kelsea Ballerini. It's one of those albums I seem to always have on repeat. It just makes me feel good. It's fun and honestly, most days I feel like the lyrics in the song.
BRADWAY is all about the yummy texture.
With garter stitch, twisted rib and a raised knit/purl combo it's super squishy to wear. Paired with a great rustic yarn like Brooklyn Tweed's Shelter and you've got the perfect summer shawl. BRADWAY is suitable for an advanced beginner and beyond. If you can read pattern instructions, increase, and knit & purl - you can make BRADWAY.
BRADWAY is modern, rustic and all about comfort & a relaxing knit.
It's a relaxing and easy knit and like our other pattern ONWARD, a great jump into shawl knitting if you haven't before. If you're an advanced knitter BRADWAY will be fun for you go wild with your color palette and just sit back and do some chillaxing (yes, I said chillaxing) summer knitting! We all need a great mind soother once in a while. Even I do. Which is why I designed it. It's soothing, repetitive and still FUN!
GET INSPIRED + JOIN THE FUN! TAG YOUR PROJECTS WITH HASHTAG #MINIKAL15 and #bradwayshawl
WHERE TO BUY THE BRADWAY SHAWL PATTERN
You can purchase a copy of BRADWAY on RAVELRY, IN OUR SHOP & on ETSY. The pattern is a downloadble PDF that is fully written and includes a schematic and pattern stitch counts. It has been professionally tech edited and also tested.
YARN
BROOKLYN TWEED SHELTER (or other worsted weight yarn you love)
2 skeins in colorway Nest (MC) or approx 280yds/256m of worsted weight yarn
2 skeins in colorway Fossil (CC #1) or approx 210yds/192m of worsted weight yarn
2 skeins in colorway Wool Socks (CC #2) or 207yds/189m of worsted weight yarn
NEEDLES
5.00mm/US 8 - long circular needle recommended
Adjust needle size if necessary to obtain the proper gauge.
GAUGE
13.5 sts and 28 rows = 4in/10cm in Garter stitch, blocked.
12 sts and 16 rows = 4in/10cm in St st
CHOOSING COLORS FOR YOUR BRADWAY SHAWL
When choosing yarns & colors to make your BRADWAY shawl be sure to have some fun! Go with rustic neutrals or summertime brights! Your Main Color (MC) should be your mid-light tone netural, your Contrast Color #1 (CC#1) should be your lightest tone and Contrast Color #2 (CC#2) is your bright mid-dark tone! Just take care to choose a color that is not too dark for CC#2 or your raised knit/purl stitches won't be easily visible.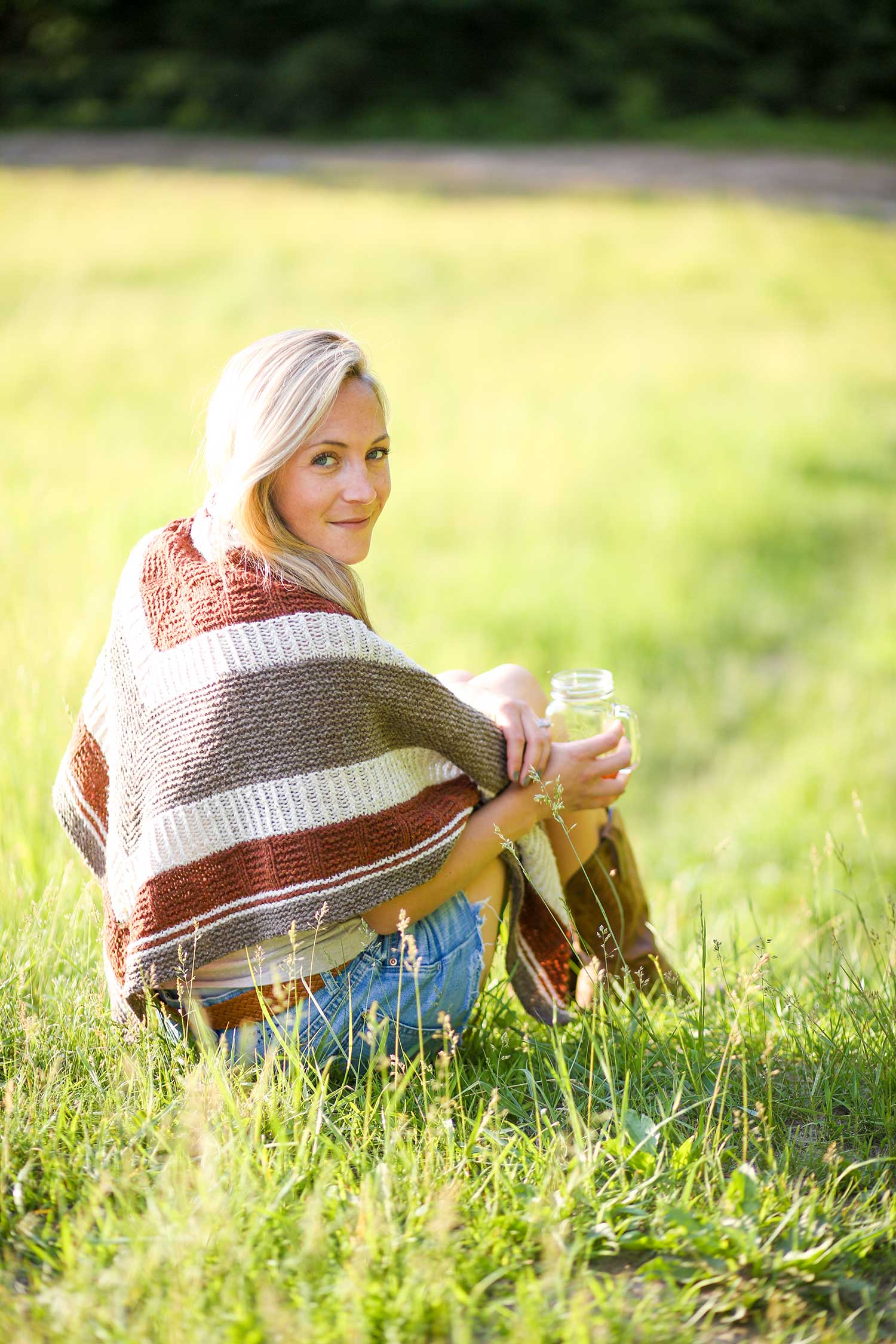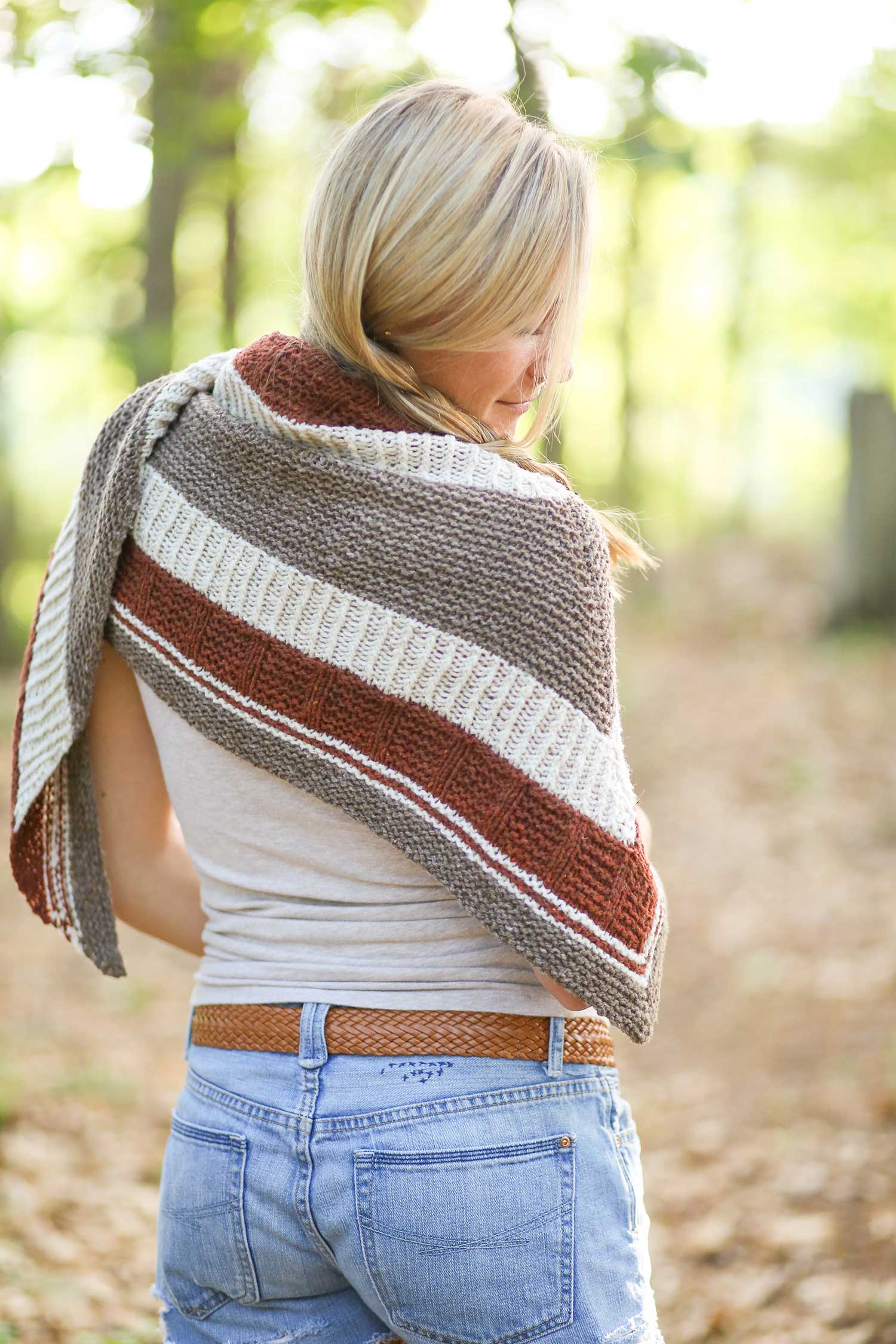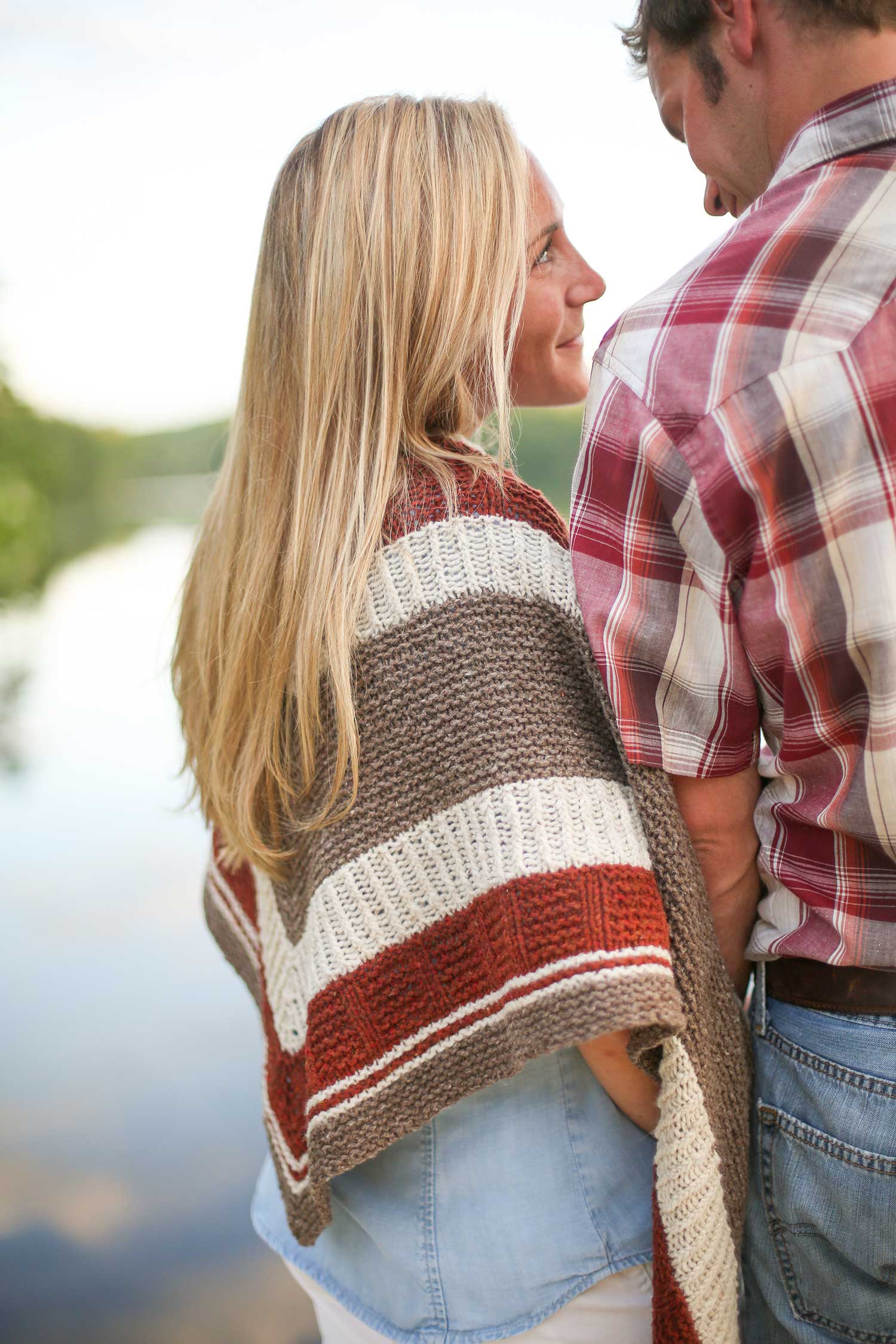 Betsy (of Betsy Jo Photography) did my shoot for me and I'm sooo happy with how it turned out! We had such a fun time bringing my vision to life!
Betsy is amazing and took what I saw in my head and brought it to life! I hope you all enjoy the pictures as well! I had such a hard time picking my faves and fitting them all in the post that I couldn't resist putting together a slideshow so you could see more of them :)
The models are a real life married couple and they live on this stunning property on Bradway Lake! I want to go hang out there! Big thanks to Betsy for being awesome!
THE MINI KNIT ALONG
To join in and knit a BRADWAY shawl with us please visit our mini-knit along taking place in our Ravelry Group HERE. You can also read more about the kal HERE.
It will run from today until approx end of July when our next SSKAL starts.
So get those needles ready to get relaxing! Cast on for your new fave summer shawl today!!!! See you at the lake....wink wink.
I hope you enjoy BRADWAY as much as I do! Thank you in advance for all your wonderful support! And thank you to my awesome testers & tech editor for helping to get this lovely out in time for this summer!
Are you going to make a BRADWAY? What yarn/colors will you be using? I can't wait hear all about it!