The leaves have been turning colour, my youngest is now in Kindergarten (her first full day is today.....insert me crying happy tears of mixed emotions), and I've finally gotten some time to sit down and get the sewing machine whirring! While I'm sad my last kiddo is in school full time I'm happy to see her grow and enjoy school and for me to have much more time to work normal people hours! Yay!
So in honour of my first day with both kids in school I thought what better way than to share some pics of some of my fave new Art Gallery Fabrics, review their brand spanking new app, and of course - giveaway a ton of fabric!!!! Yahoo!!! You know I love giving away fabric!
I'm a huge fan and supporter of April Rhodes and have fallen head over heels for all of her collections for AGF so far! And BOUND definitely does not disappoint! I stocked up on some knits and their brand new canvas weight (shown in first image) as well as some prints from the line! I'm loving the color palette and I keep coming back over and over again to the four pictured above. Smitten <3
I also made sure to get a few prints from the Sew Caroline line "Happy Home". Aren't they so cheerful? I really love the voile print I got from the line above. That will definitely be a new dress or top for me.
What Art Gallery Fabrics have you been crushing on lately? Do you have a fave new line out that you're smitten with?
THE ART GALLERY FABRICS APP
Art Gallery Fabrics now has an awesome new APP! Yep, that's right....I said an app! Fabric + Technology = Convenience!
You can now access all of your favourite Art Gallery Fabrics info at your fingertips (and on your cell phone)!
The Art Gallery Fabrics app is first of all - FREE (wahoo!) and offers shoppers many handy features! There is also access to patterns, all the AGF fabrics, where to buy, map of shops and more! Browse through photos, videos, AGF projects and get inspired!
Check out this adorable video AGF made to see the APP in action! Click HERE to watch!
I found the app user friendly and also easy to navigate.
You can get your own FREE copy of the Art Gallery Fabrics app in the Apple Store HERE and Android HERE.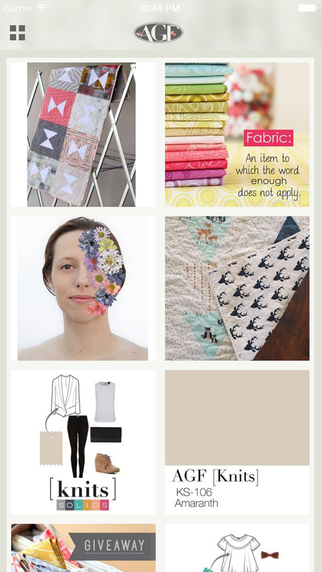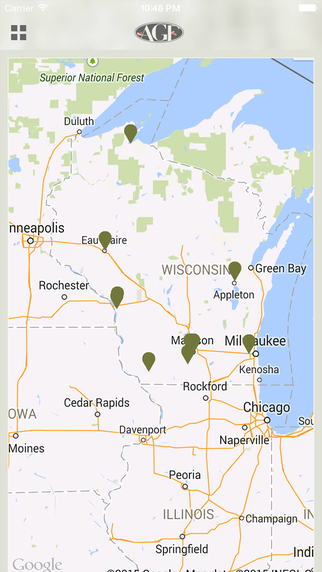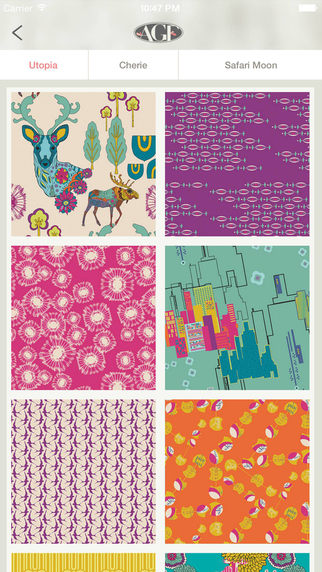 ART GALLERY FABRICS GIVEAWAY
YOU READY TO WIN SOME ART GALLERY FABRIC? YAY!
Enter the giveaway using the Rafflecopter entry form for your chance to win!
PRIZE // One lucky winner will receive 20 half yard prints of their choice from BOUND, ARTISAN or HAPPY HOME from Art Gallery Fabrics!
RULES // Giveaway open to US/Canadian residents only.
You can find all things Art Gallery Fabrics below:
WEBSITE // INSTAGRAM // FACEBOOK // TWITTER
Good luck and happy sewing!