let's all welcome our 2nd guest blogger for this week - destri from "the mother huddle"!!!
have you all heard of "the mother huddle" yet? i'm sure you have, but just in case you haven't, get ready to add a new fave blog to your reader!!!! this is one of my fave places to visit. i love it. whether it's sewing, cooking, crafts for kids, the list goes on, the mother huddle is the place to get it!
one of my fave bloggers on the mother huddle is the lovely destri. she rocks. she sews amazingly lovely goodies, crafts pretty projects, writes fun posts filled with lots of mommy goodness...i mean how can you go wrong with this kind of segment bar?

these are just a few of the creative segments destri writes that you can find on the mother huddle. needless to say i was excited when she agreed to come guest blog even though she's on the road with 2 little ones, has lots of projects on the go and 2 little ones to take care of.....you rock destri - luv ya girl!!!!!!!!!
thanks for all the comments and emails over the last few months, it's been fun getting to know you!!!!




now let's hear from destri...........



First can I say what an honor it is to be a part of this. I know you guys haven't seen who Shannon has lined up for you in the next six weeks, but I can promise the line-up won't disappoint. It's fabulous. Now can I say how thrilled I am to have a voice on Shannon's little corner of the web? I have loved her blog for ages, so really I am tickled to be here, and thank you for having me while she is away!
She asked us to share a little about our babies and being a mom to a new baby. Seems easy enough, but sheesh, where to start? I have to warn you, it is 2 am while I am writing this. If you have ever written a post past midnight, you understand that they take on a whole new life. I usually have the benefit of editing the next day but I am sending this off right when I am finished. I hope I don't regret that picture sans make-up...the baby is darling though, right?
The first thing that comes to mind for me is the hospital. Call me crazy, but I love that experience. Not so much the sterile atmosphere with beeping machines and strange people walking by - but the experience of bringing a new baby into your life. With my first I remember loving it for all the unknown. Waking up and looking over to this sweet little face that somehow was created inside of me, and was now a living, breathing wonder in my life, and he was mine. I had no idea what to expect, but knew for certain I would do what ever it took to make him happy, all in the matter of a day.
With my second, I loved it for all that was familiar. The scent that only a new baby brings, the familiar little gurgles and squeaks, the cute faces they make. It makes my ovaries ache just thinking about it. I loved that it was just she and I. I had these few days of just rocking her, just singing to her, just getting to know her. By the second baby you realize this little wonder really isn't yours at all. Nope, they will grow up one day and move away, so you learn to soak it up while you can.
I still find when I drive past the hospital I long for those little moments, and so I am a little envious of Shannon. She will love this experience, nothing can prepare you for the first baby, the second, well...she will see. It's just as magical.
Now you are looking for a tutorial right? Well first can I share the best thing ever when it comes to babies skin? I feel like this is a baby shower of sorts, and they are always filled with advice for the new mom. I know this isn't Shannon's first baby but I didn't find this until two weeks ago, so am hoping this will be useful for her too.
My babies always had very dry skin, with little patches of eczema. I always had heard of oatmeal baths but never gave it a try till recently, and they make a huge difference. And it is so easy to prepare.

the recipe:
Put two cups of rolled oats in a food processor, blender or even a coffee grinder and grind them into a fine powder. Add the oatmeal powder to a running bath of warm (not hot) water and stir well. You may find that the oats clump a little on the bottom of the tub, just run your fingers along the bottom to help it dissolve. Soak your baby in the oatmeal bath for 15 minutes, rinse with clean water and dab the skin dry with a soft towel. This will make the tub slippery so be careful! You can do this twice a day if needed, but I have found once a week to be great for my little girl. I have even experimented with adding half a cup of lavender buds to the blender, and baking soda to the water which helps diaper rashes, both have worked great. So there's my two cents.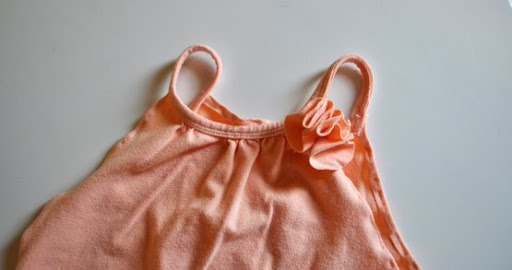 Now if your looking for a sewing project I have an easy one for you. Just whip out some of your old shirts and hop on over! If your not into sewing but have a baby and would love a new trick check this one out...all you need is a pair of scissors!
thank you so much for coming by destri! i can't wait to give this a try! my little girl always has dry skin and this is just too easy not to give it a whirl!!!!!!!
have you all tried oatmeal baths before? happy bathing ladies and babes!
p.s. don't forget to sport our button to show your luv! you can grab it on our sidebar to the left.
the bonanza is only getting started!!!!!!
images courtesy of "the mother huddle" and "luvinthemommyhood"