yippee, it's the first day of luvinthemommyhood's "babyhood bonanza"!!!! let's start the fun!!! i sat down here to begin to write a little intro for our guest blogger today and went sheesh, this is gonna be hard for 7 weeks...all the ladies who will be blogging here are fabulous and i can't even begin to put in words their talents and creativity. i guess i have to give it a shot though so here goes....
jessica fediw, from the wonderful blog "happy together", is our first blogger to kick off the bonanza. her blog and etsy shop are a cheerful and happy place to be and i like to think of her as one of my favorite neighbours in this blogging world. her tutorials, jewelry/accessories and craft projects are fun, inspiring and easy to follow, plus it doesn't hurt that her and her daughter are both gorgeous! i was super excited to have jessica as one of our "moms in the mommyhood" last year after i had become addicted to her blog and realized that we both spend a lot of time missing our hubbies.

i hope if you haven't already heard of jessica that you will pop on over to check out her blog, her etsy shop and say hi for me! trust me....you won't regret it! you can join me in my addiction to her style and eye catching tutorials!
now let's hear from jess..........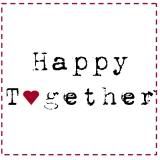 Hey everyone :) It's Jess from
Happy Together
.
I'm so happy to be a guest here for Shannon while she's on maternity leave. She was one of the first people who ever wrote about me on their blog and I instantly felt a connection with her due to a lot of life similarities. She's such a sweetheart!
My tutorial, along with all the many other fabulous bloggers who are going to follow, was to have some connection to babies or new moms. Mine is for the babies! Maybe even more appropriate for those of you who have already had a child and have some of these already laying around or in a storage box....
Not that they aren't great in and of themselves, but it's nice to have a change. So, why not recover them to look like this?
I think if we are blessed with another child that I will make a cute set just to go on the stroller/car seat to hang onto toys, sippy cups, etc. Then another to play with ;) Let's get started!
With the crochet covers and the fabric covers, I explain how I did mine, but you might need to adjust for different size rings and all. For both, you are creating a tube to stick the ring into. To make the crochet ring covers you will need:
-
Size G hook
-
Medium Worsted Weight Yarn
-
Yarn Needle
1.
Ch 3, sl st in first ch to create ring
2.
3 sc in ring (3)
3.
2 sc in each sc in ring (6)
4.
sc around until it is desired length
5.
Do a few dec at end to pull it together, leave a tail once satisfied
6.
Use needle to weave in tail and help gather the end if needed.
*
Feel free to change the colors at any time you like. Simply use a sl st to do this. Have fun and be creative!
Again, make changed necessary for the size rings you are using. To make fabric covers you will need:
-Fabric (my pieces were 7x4.5 inches, but you can make them longer if you want it to look more scrunched)
-Needle
-Thread
-Scissors
-Iron
-Sewing Maching
1. Take rectangular piece of fabric, fold in half wrong sides facing, and iron.
2. Open up and fold ends in on each side, wrong sides facing, and iron.
3. Take one long edge and fold it towards center crease made in number 1, wrong sides facing. Repeat for other side.
4. Fold the whole thing in half again (at original crease made in number 1) and there will be no raw edges showing.
5. Sew down the long side where it is open and down on short end.
6. Slip the casing onto the ring and hand sew the opening shut.
Have fun and feel free to upload any creations you make using this tutorial in this flickr group. Thanks Shannon for letting me be a guest! I can't wait to see pics of your new precious one!
you're welcome jessica! what a great tutorial! i can't wait to makeover some of the rings i have laying around from when mackenzie was a baby! thanks as well for kicking off the bonanza!!!


stay tuned for more fun this week.....on wednesday we'll be having another guest blogger over to say hello so make sure you come by and join the party! don't forget to spread some bonanza luv - sport our buttons on your blog or posts and help spread the word, you can find it to your left on the sidebar!!!